TryAgain 3.2.0 – Reload Automatically di Firefox ketika error !
Enjoy our daily articles, we try to bring the best for you, Subscribe to your feed reader by clicking
here
Terkadang ketika masuk ke sebuah website terjadi error, tdk seperti yang kita harapkan. Banyak sekali penyebab error tersebut. Mungkin karena situs yg kita tuju error, mungkin juga karena ISP kita memang mengalami masalah, kita tdk tahu !
Tentunya dengan keadaan ini membuat kita harus berulang-ulang kali melakukan "refresh". Bagaimana jika kita malas untuk menunggu? Ya, mungkin kita tidak sabar menunggu disebabkan oleh kita harus mengerjakan pekerjaan lain, masa' kita harus di depan browser menunggu sesuatu yang tdk pasti? Manusia skrg mah butuh yang pasti-pasti bukan? Untuk itu, saya perkenalkan sebuah plugins yang sangat berguna membantu melakukan "automatically reloading…."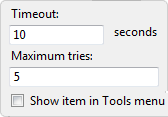 TryAgain 3.2.0 menjawab kebutuhan kamu bertindak sebagai robot otomatis dalam membantu kamu melakukan loading otomatis ketika percobaan gagal..gagal..gagal.. !
Silahkan download software addons untuk mozilla firefox ini di:
Jika diumpamakan, robot ini mempunyai tingkat kesabaran yang ekstra tinggi, dia tidak pernah marah !!!
NB: Software ini merupakan addons untuk browser firefox, jadi kamu tidak bisa menggunakannya untuk sembarangan browser.
1 2 3 4 5 6 7 8 9 10
Leave a Reply