Telkomsel Flash Broadband Internet Connection : Nothing We Can Get
Enjoy our daily articles, we try to bring the best for you, Subscribe to your feed reader by clicking
here
Thru this article, I just wanna share to all my readers outside Indonesia especially about the reality what we are facing as consumer / client against ISP.

Indonesia has numbers of Internet operator those claim 3G – UMTS/HSDPA, some of them already have a big name even outside Indonesia. One of them I talked about is telkomsel flash. If you visit Indonesia, you'll know this big name as a biggest cellular operator on here. From Sabang till Merauke, all coveraged.
But this is just a surface. The problem will raised when you use Telkomsel Flash, the Internet Broadband provided by them. If you search through Google using keyword "Telkomsel Flash Unlimited", you may explore the same issue like you read here.
Two times I used this connection, two times too I face similiar problem. Once I just registered the card and paying only about $10 and heavenly promises came to me I can use unlimited (but it will dropped till 64k when maximum quota reached).
Yeah, for the first time, the connection can make you smile. Everything ok. Well Done ! Two thumbs up !
After the third month, the nightmare came to almost users, the connection dropped, even we can't access at all, read it: AT ALL !It was half a year ago. Now, the same problem come to me today as you read this article, I just suffered the same thing.
My sister borrow from me, my broandband connection plus the modem and exchange to me with Telkomsel Flash plus its modem. I can't tell you how many attempts I already commited, but, yeah you can guess, NOOP.
Fortunately, both my sister and I spend no money with that, her office provide for her as facility, but isn't it the useless expense? It spends at least $20 / month only for "garbage". With $20, people can make donation for fighting poverty.
Nothing We Can Get!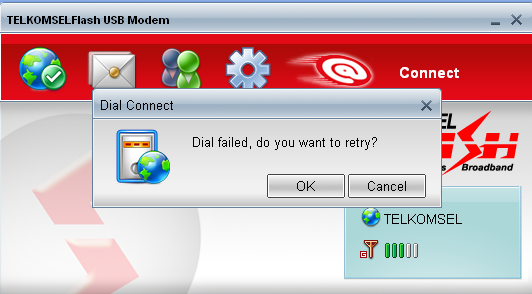 R e l a t e d T e r m s
1 2 3 4 5 6 7 8 9 10
Leave a Reply